Only Comprehensive Eye Exams Can Detect Disease
According to the Glaucoma Research Foundation, glaucoma is a leading cause of blindness in the United States, but only 50 percent of those affected are aware they have the disease. Often referred to as the "sneak thief of sight," glaucoma is normally painless, and vision loss may progress so slowly as to be undetectable. The disease affects peripheral, or side vision, first. Therefore, patients may unconsciously turn their heads to compensate for a field deficit that is not yet obvious to them. Although there is no cure for glaucoma, early detection is the best defense against vision loss because medications or surgery can slow its progression. Unfortunately, many Americans do not schedule routine eye exams that screen for eye diseases. We speak of visiting the "eye doctor" when we have trouble reading or watching a movie and need corrective lenses, but, in fact, the opticians who fit us for glasses do not have the medical credentials of an optometrist or ophthalmologist who can assess the health of our eyes with a comprehensive exam.
The CDC's Vision Health Initiative Glaucoma Detection Program
The fact that Americans are losing vision to preventable eye diseases is recognized by the Centers for Disease Control and Prevention (CDC) as a public health dilemma. In 2012, The CDC launched the Vision Health Initiative (VHI) Glaucoma Detection Program to identify glaucoma symptoms among high-risk populations including those with diabetes or extreme near-sightedness, people over 60 years of age, those with a family history of glaucoma, and certain ethnic groups. Hispanics, Afro-Caribbeans, and, particularly, African Americans have a genetic predisposition to the condition. In fact, African Americans are six to eight times more likely to be blinded by glaucoma than Caucasians and are much more likely contract the disease at a younger age.
Through the VHI Glaucoma Detection Program, federally-funded grant programs are empowering local hospitals and universities to find innovative ways to educate the public about the need for routine eye exams and bring state-of-the-art diagnostic tools and medical treatments to underserved populations in urban areas. Among VHI's original partners is the Wills Eye Hospital in Philadelphia, Pennsylvania, which is now in its third year of a five-year program entitled the "Innovative Community Outreach Program."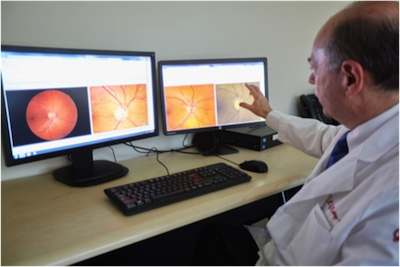 Wills Eye Hospital's Glaucoma Detection and Treatment Program
L. Jay Katz, MD, Chief of the Wills Eye Glaucoma Service and a Professor of Ophthalmology at Sidney Kimmel Medical College is the Principal Investigator for the Philadelphia Glaucoma Detection and Treatment Project. In Phase I, the program successfully connected hundreds of people in disadvantaged neighborhoods to glaucoma screening and medical treatments through focused outreach efforts. Non-physician educators participated in local health fairs and gave lectures at senior residential communities, senior centers, and churches. The program succeeded in raising awareness and correcting misconceptions. "We discovered that many people did not know about glaucoma and some thought it could be 'cured' with eyeglasses," Dr. Katz said.
Mobile Units Deliver Screenings and Treatments
Following the information sessions, participants were encouraged to return to the same venue at a later date for an eye exam on board a mobile unit—vans outfitted with all the diagnostic tools found in an ophthalmologist's office. Once program participants understood risk factors and the imperative of routine eye exams, they spread the word. "Many people showed up to our mobile units with a friend or family member in tow," Dr. Katz said.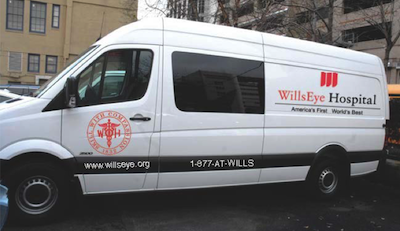 The search for individuals with glaucoma symptoms bore fruit. Approximately 40 percent of those tested were given a glaucoma-related diagnosis, and many opted to return to the mobile units for treatment with laser surgery.
Linking Primary Care Patients to Ophthalmologists Through Telemedicine
With Phase I now complete, Phase II of the Wills Eye Hospital glaucoma project integrates promising telemedicine technology. Instead of reaching potential patients through mobile clinics, the program enlists primary care doctors to work on the frontline of glaucoma detection. These physicians routinely see patients with conditions like diabetes and hypertension, which are risk factors for eye diseases. Yet primary care doctors do not have the capacity to provide comprehensive eye exams and far too many patients do not follow-up when they are referred to an ophthalmologist.
The Wills Eye Hospital facilitated access to eye care by establishing a program in primary care physicians' offices to screen for undiagnosed glaucoma, glaucoma suspect, and retinal diseases using a special camera that photographs the optic nerve, retina, and macula. Technicians were also trained to use a tonometer, a hand-held instrument that can quickly and painlessly test for intraocular pressure. The images and data were then sent via a closed Internet system to glaucoma specialists and trained retinal readers who would determine the need for follow-up appointments. In many cases, glaucoma, glaucoma suspects, diabetic retinopathy, and other eye conditions were identified.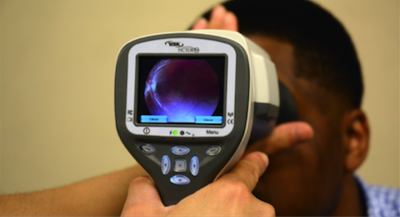 "We were also suspecting cataracts by noting the blurry quality of the eye images in certain patients. After that first visit, if an eye disease was identified or suspected, then a second visit was scheduled with an ophthalmologist and team that came in a mobile unit to the primary care doctor's office to confirm the diagnosis," Dr. Katz said.
Patient Navigators Ensure Follow-Up
As with all initial diagnoses, follow-up is critical; yet, too many patients fail to pursue further care. Dr. Katz explained, "Some people might already be overwhelmed by serious health problems like diabetes or may have mild memory issues. Others simply give up trying to navigate the complexities of our healthcare system."
One research component of the Wills Eye Hospital program has been to find ways to remove barriers to medical care. One proven strategy is to assign patients a navigator who schedules necessary doctor appointments and facilitates transportation and other logistics to ensure that appointments are kept. Not surprisingly, initial findings suggest that patients assigned to a navigator are more likely to receive treatment for their eye condition than those who go it alone.
The Future of Eye Care Delivery Systems
The devastation visual impairment causes to individuals and their families is obvious, but Dr. Katz points out that blindness has an enormous impact on society. According to Katz, loss of jobs and independence for citizens who are blind cost an estimated three billion dollars a year in government services and state-sponsored aid. "Of course, preventing blindness is ethically the right thing to do, but we can also argue that investing in early diagnosis and treatments will save our communities money in the long run."
The Wills Eye Hospital Glaucoma Detection and Treatment Project has made significant inroads in promoting the eye health of Philadelphia's residents. Dr. Katz and his team hope that the ripple effect will extend far beyond their city.
"Our overarching goal is to change the delivery system of eye care nationwide with an effective proactive screening program to identify those at risk for treatable eye diseases and prevent blindness," Dr. Katz said.
Additional Information on Glaucoma
How Can I Detect Glaucoma If There Are No Initial Symptoms?