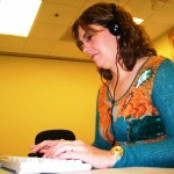 Guest blogger DeAnn Elliott graduated from the Independent Living program at The Carroll Center for the Blind in 2007 after losing her eyesight to retinitis pigmentosa. She lives in the Boston area with her teenage daughter, their cat, and her guide dog, Emmy, a playful black lab. In Disability Employment and a "Thumbs-Up" for Roger Ebert, which first appeared on The Carroll Center's blog, DeAnn shares her thoughts on the death of Roger Ebert and disability employment. It is reprinted here with permission.
Thoughts on Roger Ebert's Life and Death
Last week, I was saddened to read the obituary of film critic Roger Ebert, who died in Chicago at the age of 70. Famous for his partnership with Gene Siskel on the syndicated television program Siskel and Ebert at the Movies, he was the portly, bespectacled half of the team that exchanged good-natured insults and armchair rants about the films they'd seen that week. Before the arrival of the internet and the unlimited amount of information we now take for granted, I turned to the pair's "thumbs-up, thumbs-down" reviews for practical advice about how I should (or shouldn't) spend my hard-earned paycheck.
After being diagnosed with cancer in 2002, Ebert lived with illness and a disability for the last decade of his life. Numerous surgeries left him without a jaw or the ability to eat or drink. He was fed through a tube for years and became uncharacteristically thin. He continued to work in spite of his condition, reviewing films for the Chicago Sun-Times and posting opinions on Facebook and Twitter for his 800,000+ followers. A prolific author, he published a book during his illness and continued to appear in public and give interviews.
Two years before his death, he began a new film-review program on public television. Unable to speak, he used a computer-generated reproduction of his voice to offer critiques while colleagues appeared on camera to deliver the "thumbs-up or thumbs-down" verdict.
Roger Ebert and Job Accommodations
When I heard about his synthesized voice, I was struck by what might seem like a magnificent Hollywood trick. Movie-makers are good at that—using special effects to turn daily reality into something larger than life. There's a lot of money in the entertainment business, so presumably there was funding for an extraordinary accommodation that the average employer would not be able to make.
And Ebert was not the average employee. As the first film critic to win a Pulitzer Prize and the first to be honored with a star on the Hollywood Walk of Fame, his exceptional talent undoubtedly made it worthwhile for his employer to provide the accommodations that made his continuing productivity possible.
Job Accommodations for People Who are Blind
The technology, however, is not so exotic or expensive as one might think. As a blind person, I read his obituary with similar software that converts the text I can't see on my computer screen into synthesized speech. Many cell phones talk. If you have an iPhone, you can turn on the voice option by enabling VoiceOver in the accessibility settings. It's magnificent and also mainstream.
The computer software I use, as well as instruction on how to use it, was part of the rehabilitation training for the blind that I received as a client at the Carroll Center for the Blind. It was funded through the state where I live and allowed me to return to work after my vision loss. I brought the software with me to my new position, at no cost to my employer.
As baby boomers approach retirement and more workers age into disability, more and more employers are confronted with decisions about how to respond. Only a few years ago (like when movies were only seen in theaters!), the onset of a disability was often the end of a career. If an employee couldn't read hard copy paperwork, or hear well enough to talk to a customer on the telephone, or be in the office every day from 9 to 5, there were few options from which to choose.
Today, advances in technology have vastly expanded the range of available solutions, permitting employees to continue to contribute their experience while saving their employers the cost of hiring and training a replacement. According to the U.S. Department of Labor's Job Accommodation Network, a service that offers free and confidential guidance to employers and employees about employment solutions, the average cost of making an accommodation for an employee with a disability is less than $600.
Roger Ebert's Legacy to the Disability Community
Through the sheer force of his talent and reputation, Ebert challenged the assumption that the capacity to vocalize was an essential function of the job of television film critic. Although it would be a stretch to generalize this to all film critics, many employers are tempted to act on assumptions before giving full consideration to a range of solutions (both known and unknown), often silencing an otherwise good employee more effectively than the disability itself.
Ebert's desire to continue to work was remarkable (one can imagine he was in a considerable amount of pain,) but the desire by people with disabilities to continue to be productive citizens is not. Employment is a critical path to financial security and personal fulfillment.
Sadly, the shortage of non-physical jobs that can be done without a college degree (and the disincentives to work that are contained in the administrative codes of state and federal agencies) contribute to high numbers of people with disabilities living in poverty and choosing dependence over employment. Lack of transportation, stigma about disability, cuts in state budgets that fund rehabilitation programs, and many other factors work together to [create] an unemployment rate for people with disabilities that is almost always twice as high as the unemployment rate for people without disabilities.
An employee with a strong spirit and an accommodating employer can often find creative ways to overcome barriers to productivity. "When I am writing, my problems become invisible, and I am the same person I always was," Ebert explained to Esquire magazine in 2010. "All is well. I am as I should be."
More about DeAnn Elliott
You can learn more about DeAnn at The Carroll Center website, where you can read her full biography and explore more of her blog posts. We thank you, DeAnn!