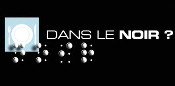 Dans le Noir? (translation: "In the Dark?") is a "dining in the dark" social franchise network that began in Paris, France in 2004. The stated mission of Dans le Noir? is to encourage and foster empathy with – and a greater understanding of – people who are blind and visually impaired. It is managed by the Ethik Investment Group, a French consulting and event-marketing corporation.
The Dans le Noir? social experiment evolved from a series of "le goût du noir" or "taste of darkness" dinners that were developed and financed by the Paul Guinot Association for the Blind and Visually Impaired in Paris in 1999. Since that time, the Ethik Investment Group has added Dans le Noir? restaurant franchises in Paris, London, Barcelona, Saint Petersburg, and – most recently – New York, with Casablanca planned to open in November, 2012.
The Mission of Dans le Noir
From the Dans le Noir? website (translated by moi):
Dinner in absolute darkness guided and served by the blind is a unique experience that changes our view of the world by reversing the roles of the blind and sighted:

an experience that awakens our senses and causes us to reassess our perceptions of taste and smell;
a social experiment in which darkness frees our inhibitions and preconceptions;
a human experience in which the blind become our eyes and guides in an intriguing and sensual world.
Edouard de Broglie, president of the Ethik Investment Group, further explained the Dans le Noir? mission and concept in an interview on CNN's eatocracy blog:
[de Broglie] believes corporate social responsibility is the root of the company, and more than 50 percent of the staff has a disability. "When you see disability as a difference, but not as a problem, then it brings you to very interesting concepts and ideas," said Broglie. Fittingly enough, the backs of the staff's T-shirts display a popular quote from William Shakespeare's Twelfth Night: "There is no darkness, but ignorance."

In this case, the industry-wide practice of "blind tasting" – tasting an ingredient while blindfolded then deciphering what it is – takes on a deeper emotional undertone. The tables are turned: The diners become the blind, and the blind, who rely on the help of others daily, become the guides.
The New York Dans le Noir, Reviewed by Eater
The most recent franchise in the growing Dans le Noir? empire, which opened in December 2011, is located in New York, at 246 West 38th Street, in Midtown Manhattan.
I have not yet been to the Manhattan location, but a recent Dans le Noir? review on the New York Eater blog riveted my attention. Written by "AK" and "GM," two (apparently) sighted Eater editors, the review was aggressively negative and – on first read, at least – shockingly insensitive, completely missing the point of the "blindness immersion" experience. Here's a sample:
EaterAK: So now that you've had a night to sleep on it: Was this in fact the worst experience you've ever had in a restaurant?

EaterGM: After much thought and reflection, I can say that dinner at Dans Le Noir was the worst experience I've ever had in a restaurant. You?

EaterAK: Same. I'm sure I've had worse food, worse service, worse company, but I've never felt the same desperate need to flee.

EaterGM: Agreed. I'll just say that I've never come so close to having a panic attack in my entire life.

…

EaterAK: Our server Maria tells us we are not allowed to move once in the dark room, and that it's very loud in there. No movement, and very dark, very loud.

EaterGM: Also, she said, "If you need anything — drinks, a fork, a napkin — ask me." And she also hyped up dessert. "You'll want to stay for dessert."

EaterAK: Ha. Then she led us in conga line style, so then we're inching through the dark room.

EaterAK: And our simultaneous PANIC ATTACKS begin.

EaterGM: PANIC ATTACK. When did the panic set in for you? Before you sat down?

EaterAK: Yes. But it really set in when I sat down and realized I wasn't going to moving for a long time, and I wasn't sure where you were or where the wall was.

EaterGM: No way. Oh my god. It was just pitch black. My muscles started to tense up, and I had trouble breathing.

EaterAK: I feel all of a sudden incredibly thirsty and nauseous. Breathing was hard.

…

EaterAK: I should note that while we're eating we are sitting in this dark room, it's VERY loud and very stuffy.

EaterGM: Oh, extremely. Yes, like a subway car during rush hour.

EaterAK: And every ten minutes or so one of the waiters yells for everyone to be quiet, and then it revs up again. Our waitress explained that it's due to the fact that you don't know how close you are to people so you just yell. I noticed my throat hurt afterwards.

…

EaterAK: I don't know if it's worth going into, but the second course was not good. There were all kinds of random fish and couscous and fruity elements. Some of mine was flavored with lavender.

EaterGM: I had some weird, saliney fish thing, and a super salty thing that tasted like souvlaki. It was just not what you want to blindly bite into.

EaterAK: And our sparkling dinner conversation had this edge of desperation to it.

EaterAK: Like, "Oh do you want to hear a story?" "Please anything to distract me."

EaterGM: At one point, it reminded me of solitary confinement.

…

EaterGM: So, this is a restaurant that has not been reviewed by any critics, and there is perhaps a reason for that: this restaurant should not exist. No one should go there.

EaterAK: And I can't imagine they have repeat customers.
You can read the full review on the New York Eater blog.
The Blind Food Critic Responds
What's up with that review? I wondered. Is it just insensitive or was there also something not right with the restaurant? Obviously, there was some disconnect between the stated Dans le Noir? mission and the New York execution.
I decided to take my questions to Daniel Aronoff, New York City's premier (and only, methinks) blind food critic. You can read about his always-interesting culinary experiences at The Real Blind Taste Test© blog and @blindblog on Twitter. Daniel received the People's Choice Award in the Dining and Entertainment category of CBS New York's Most Valuable Blogger Awards 2011.
Daniel is the perfect person with whom to discuss my concerns, wouldn't you say? Read about our wide-ranging discussion in Part 2 of our Dans le Noir? exploration.