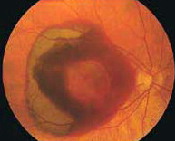 Last week, I read yet another intriguing research study regarding the age-related macular degeneration (AMD) drugs Lucentis and Avastin. The newly-released Canadian study investigated the risk of cardiovascular events [i.e., heart attack, congestive heart failure, blood clotting, and stroke] in patients who were receiving either Avastin or Lucentis injections for retinal disease.
I've blogged about research results involving both drug treatments on a number of occasions, including Avastin vs. Lucentis for AMD: Preliminary Research Results and Could Avastin and Lucentis Trigger Elevated Eye Pressure?.
The British Medical Journal
The Canadian study, entitled Adverse events with intravitreal injection of vascular endothelial growth factor inhibitors (I will explain/decode), was published on July 4, 2012 in the British Medical Journal (BMJ), an online peer-reviewed journal published by the British Medical Journal Group. The authors are Robert J. Campbell, Sudeep S. Gill, Susan E. Bronskill, Michael Paterson, Marlo Whitehead, and Chaim M. Bell.
The mission of the BMJ, first published in 1840, is "to lead the debate on health, and to engage, inform, and stimulate doctors, researchers, and other health professionals in ways that will improve outcomes for patients."
Lucentis and Avastin: Anti-Angiogenic Drugs
The study of anti-angiogenic drugs has received considerable attention in ophthalmology and cancer research and has been an important development in the treatment of wet AMD. Angiogenesis is a term used to describe the growth of new blood vessels and plays a crucial role in the normal development of body organs and tissue.
Sometimes, however, excessive and abnormal blood vessel development can occur in diseases such as cancer (tumor growth) and AMD (retinal and macular bleeding). Substances that stop the growth of these excessive blood vessels are called anti-angiogenic (anti=against; angio=vessel; genic=development), and anti-neovascular (anti=against; neo=new; vascular=blood vessels).
The focus of anti-angiogenic drug treatments for wet AMD is to reduce or inhibit the level of vascular endothelial growth factor (VEGF), which is a protein that stimulates abnormal and damaging blood vessel growth in the retina and macula. Stopping the growth of these abnormal blood vessels, via anti-VEGF treatments, has been an ongoing development in the treatment of wet AMD.
Thus, these drugs are commonly known as VEGF inhibitors.
More about Avastin and Lucentis
Avastin is an anti-VEGF drug that is FDA-approved in the United States since 2004 for intravenous use in colorectal cancer. It is currently used on an "off-label" basis [i.e., via eye injection] to treat wet AMD. The average cost per treatment with Avastin is approximately $50.
Lucentis was derived from a protein similar to Avastin, specifically for injection in the eye to block blood vessel growth in AMD. In 2005, clinical trials established Lucentis as highly effective for the treatment of wet AMD. The FDA approved Lucentis in 2006. The cost per treatment with Lucentis can range from $1,200-$2,000.
At present, Avastin and Lucentis are administered by injection directly into the eye [i.e., intravitreal] after the surface has been numbed. The needle is very small and is inserted near the corner of the eye – not the center. During the injection procedure, the doctor asks the patient to look in the opposite direction to expose the injection site, which also allows the patient to avoid seeing the needle.
The BMJ Avastin/Lucentis Study
An explanation of the study basics from BMJ:
Age-related macular degeneration is the leading cause of blindness in Western nations; the neovascular ("wet") subtype is responsible for most cases of severe vision loss. Because vascular endothelial growth factor [VEGF] plays an important role in the growth of the pathological blood vessels that underlie neovascular age-related macular degeneration, the development of [VEGF] inhibitors has revolutionized the treatment of this disease.

However, [VEGF] also functions in many physical and disease processes, including maintenance of normal blood vessels, wound healing responses, [and] blood clotting… These wide-ranging effects make plausible the hypothesis that adverse vascular events may stem from inhibition of [VEGF].

Furthermore … clinical evidence suggests an association between inhibition of vascular endothelial growth factor and adverse vascular events. In particular, intravenous administration of the [VEGF] inhibitor [Avastin] has been associated with increased risks of stroke, [blood clotting], and congestive heart failure. Whether this risk of systemic adverse events can be extrapolated to the small doses used in age related macular degeneration remains unclear.
More about the Research
From the Canadian Broadcasting Corporation (CBC) News Toronto:
Researchers followed 91,378 older adults with a history of retinal disease between April 1, 2006 and March 31, 2011, to determine if injections of bevacizumab (Avastin) or ranibizumab (Lucentis) could be linked to increased vascular risks including stroke, heart attack, or congestive heart failure.

The research, which was done at Ontario's Institute for Clinical Evaluative Sciences and published in Wednesday's edition of BMJ, concludes that injections of these drugs into the eyes of patients with retinal disease did not increase such risks. "The take-home message from our study is we weren't able to find increased risks of these adverse vascular events with either drug," said [lead author] Dr. Robert Campbell.

Dr. Campbell stressed that while the study … complements and adds to results of other studies that "didn't detect differences in vascular events, the risk of vascular events isn't likely going to drive the decision of which drug is best – it would be based on other [factors], such as cost and side effects."
The Future
VisionAware will continue to provide updates for ongoing Avastin and Lucentis research as they become available. Dr. Robert Campbell and colleagues have authored another fascinating perspective on the effectiveness, safety, and cost considerations of Avastin vs. Lucentis in the May 2012 BMJ, entitled Implications of "not me" drugs for health systems: lessons from age-related macular degeneration. It's well worth a read and raises many critical issues regarding drug policy, both in Canada and throughout the world.