There Is Something You Can Do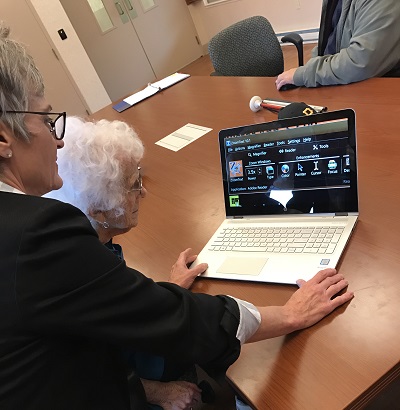 If you grew up with vision loss, or any disability really, there's a good chance you are already familiar with some of the resources you need to find assistive technology (AT). Assistive technology includes products, devices, or equipment, whether acquired commercially, modified, or customized, that are used to maintain, increase, or improve the functional capabilities of individuals with disabilities. Those who learned about AT at a younger age probably received some training on it early on. Many of the clients I work with as a vision rehabilitation therapist have recently acquired vision loss and often have no clue where to find these resources. Medical providers often tell their patients with vision loss: "There is nothing more I can do." Medically, this may be the case; there may be nothing more that can be done with a vision loss from diabetic retinopathy, macular degeneration, glaucoma, or any of the other progressive eye diseases. But there is so much more that can be done to use whatever functional vision is left or to learn new ways to do everyday tasks, including using technology. If you are exploring what your options are or just adding to your growing resources list, get ready to take some notes!
Assistive technology is everywhere these days, which is a wonderful improvement over where it was a decade ago—often highly specialized and even harder to find. By contrast, if you look on your smartphone or tablet, you will find some assistive technology built right into the settings, often under a heading like "Accessibility" or "Universal Access." in the Settings menu. These are welcome and significant improvements to what otherwise might be mainstream technologies, but if you stop exploring there, you will be missing out on so many other possible alternatives.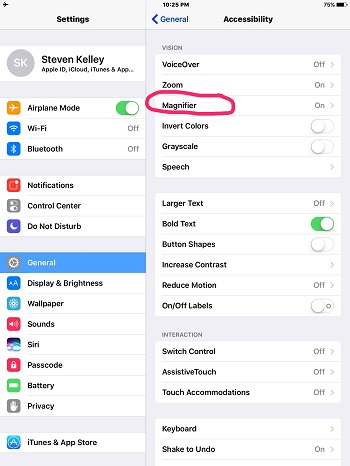 For example, a friend may have told you about the Magnifier app on the iPhone or iPad that is found in the "Accessibility" settings. This app enables the camera to magnify items, such as print, and manipulate contrast and image colors to make objects or print more accessible. This a great accessibility feature on a portable mainstream device, but it is just one example of an electronic magnifier. The Magnifier app may be perfect in a pinch for a portable alternative, but there are so many desktop, handheld, and portable video magnifiers available you might shortchange yourself by not exploring some of the other options.
Where Do I Find the Other Assistive Technology Options?
Legislation commonly referred to as the Assistive Technology Act, or Tech Act, updated in 2004 provides for Assistive Technology Act Programs (ATAP) within each state (there are actually 56 programs nationally) to offer demonstrations of assistive technology, loaners, recycle and reuse programs, some training, and even low-cost loans for funding in some cases. To find your state's ATA program, call ATAP at 217-522-7985 or search the database on the ATAP website.
While each state is different, the Assistive Technology Act was designed to ensure that consumers with a disability have access to assistive technology. It was certainly not designed just for individuals with vision loss or blindness but is a great resource.
Another resource for assistive technology (AT) more specifically designed for those with vision loss is a local or state agency. You may be pleasantly surprised if you look through the VisionAware Directory of Services for your state. These listings will connect you with vision rehabilitation therapists, computer and assistive technology specialists, and low vision clinics—services that can provide resources to vendors, training, and funding options for a wide variety of AT.
If you have severe hearing and vision loss, you may also want to contact iCanConnect, which provides people who qualify with free equipment and training. iCanConnect is a national program with local contacts in all 50 states, the District of Columbia, Puerto Rico, the U.S. Virgin Islands, Guam, American Samoa, and the Northern Mariana Islands.
Keeping It Running
Even the AT appearing on mainstream devices, like Apple's VoiceOver and Android's TalkBack, is specialized enough that the average customer service representative or the local tech guru may be of little help for training or assistance with troubleshooting. Fortunately, several of the mainstream manufacturers now offer telephone tech support at no cost for users of their assistive technology. The scope of these services is not so comprehensive as to include training per se, but it can certainly get you past a hurdle.
For example, during recent training with a client, we were both confused by an update request at the Apple App Store in order to download a free app. The client was using the Zoom Magnifier on her iPhone, one of the accessibility features that comes with the phone, and this provided us the option of calling Apple Accessibility (see below). Their support person walked us through the process and answered many of our questions throughout the call.
Accessibility Support Numbers
If you purchase or acquire one of the many specialized AT products, chances are you will have access to their tech support and knowledgeable support staff. Many of the mainstream tech companies offer no-cost tech support to their customers using accessibility features. This tech support can really be helpful as you gain increased proficiency with the AT features or when something goes wrong!
Apple Accessibility: 877-204-3930
Apple Accessibility is specifically for customers who use accessibility, such as Zoom, VoiceOver, Speech, etc. My experiences have always been quite good, and their tech support staff seems unhurried and willing to take the time necessary to solve any issues related to accessibility.
Microsoft Disability Support: 899-936-5900
One of the unique features of this number is that tech support appears to be available for customers using assistive technology with Microsoft products. For example, as a third-party screen reader user, like JAWS or NVDA, you might still expect to receive support while using it with Windows, Office, or any of their other software. I have less experience with this number, but the wait was minimal, and the support staff is helpful and knowledgeable.
Android Accessibility Team
This team currently offers no phone support but is available Monday through Friday from 8 a.m. to 5 p.m. (PST) by email at disability-support-external@google.com.
Amazon Support: 888-280-4331.
This is not specifically an accessibility support number. When called, however, I was able to reach a Kindle Fire technical support person familiar with the accessibility features.
Assistive Tech Diversity
There is more assistive technology available to use with vision loss than you will learn about at either the eye doctor's office or from the local techie. Dig a little deeper; try some of the devices at your state's Assistive Technology Act Program or with your AT specialist or vision rehabilitation therapist. The AT applications on your mainstream tech are a great place to get started but keep looking for the best fit particularly if this technology will be useful in the workplace.
Additional Information