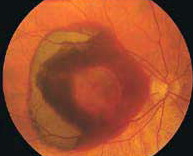 MacuCLEAR, Inc. has announced that it is commencing Phase III clinical trials for MC-1101, its topical [i.e., eye drop] drug for the treatment of early-stage dry age-related macular degeneration (AMD), based on positive feedback during the company's end-of-Phase II meeting with the U.S. Food and Drug Administration (FDA). Recently, I also reported on another eye drop treatment in development by Ohr Pharmaceutical, Inc. as a potential treatment for wet age-related macular degeneration (AMD).
About MacuCLEAR, Inc
MacuCLEAR, Inc., located in Plano, Texas, is a specialty pharmaceutical company, formed in 2006, that is focused on discovering and developing innovative solutions for vascular [i.e., blood vessels and blood circulation] disorders of the eye. The company's primary product is MC-1101, an eye drop-based drug for treating and stopping the progression of AMD from the early stage (dry AMD) to the later stage (wet AMD) by increasing blood flow in the eye's choroidal vessels. Located within the eye, the choroid is a dark brown membrane that is rich with blood vessels. It supplies blood and nutrients to the retina and nourishes all other structures within the eye.
George Chiou, Ph.D., the chief scientific officer of MacuCLEAR, spearheaded the investigations that led to the development of MC-1101, theorizing that AMD begins with a reduction in choroidal blood flow. Dr. Chiou also led the development of Timolol, a pioneering drug treatment for glaucoma.
About MC-1101 and Clinical Trials
The active ingredient of MC-1101 has been approved previously by the FDA as an oral anti-hypertensive drug. MC-1101 has also been awarded Fast Track designation by the FDA.
The first stage (Phase IIIa) of MacuCLEAR's Phase III clinical trial will include 60 patients and will take place at the University of Michigan. MacuCLEAR completed a successful Phase I/proof of concept clinical trial in 2009, which showed that the drug was safe for use in human subjects. In that trial, the MC-1101 eye drops migrated effectively to the back of the eye and provided effective treatment for dry AMD by increasing choroidal blood flow.
About Dry Age-Related Macular Degeneration
There are two types of age-related macular degeneration (AMD): dry (atrophic) and wet (neovascular). It's possible to experience the wet type in one eye and the dry type in the other; in addition, the dry type can progress to wet in approximately 10-15% of cases.
The dry/atrophic type affects approximately 85-90% of individuals with AMD. Its cause is unknown, it tends to progress more slowly than the wet type, and there is not yet an approved treatment or cure. In dry AMD, small white or yellowish deposits, called drusen, form on the retina, beneath the macula, causing it to deteriorate or degenerate over time.
Although there is no approved treatment or cure for dry AMD at present, several clinical trials are in progress to assess potential therapies. I've blogged about several of the most promising, including A New Stem Cell Clinical Trial for Dry Age-Related Macular Degeneration, Stem Cell Therapy for Dry Age-Related Macular Degeneration, and Update on Stem Cell Clinical Trials for Dry Macular Degeneration and Stargardt's Disease.
About "Fast Track" Designation by the FDA
From The FDA for Consumers:
Fast Track is a process designed to facilitate the development, and expedite the review, of drugs to treat serious diseases and fill an unmet medical need. The purpose is to get important new drugs to the patient earlier. Filling an unmet medical need is defined as providing a therapy where none exists or providing a therapy which may be potentially superior to existing therapy.

Once a drug receives Fast Track designation, early and frequent communication between the FDA and a drug company is encouraged throughout the entire drug development and review process. The frequency of communication assures that questions and issues are resolved quickly, often leading to earlier drug approval and access by patients.
More about Clinical Trials
Most clinical trials are designated as Phase I, II, or III, based on the questions the study is seeking to answer:
In Phase I clinical trials, researchers test a new drug or treatment in a small group of people (20-80) for the first time to evaluate its safety, determine a safe and effective dosage range, and identify possible side effects.
In Phase II clinical trials, the study drug or treatment is given to a larger group of people (100-300) to determine if it is effective and to further evaluate its safety.
In Phase III studies, the study drug or treatment is given to even larger groups of people (1,000-3,000) to confirm its effectiveness, monitor side effects, compare it to commonly used treatments, and collect information that will allow the drug or treatment to be used safely.
In Phase IV studies, after the Food and Drug Administration (FDA) has approved the drug, continuing studies will determine additional information, such as the drug's risks, side effects, benefits, and optimal use.
VisionAware will provide updates on this important macular degeneration research as they become available.
Sources: MacuCLEAR, Inc; PRNewswire; BioTuesdays; Macular Degeneration Partnership