Results from a new clinical trial, presented at the July 2014 Alzheimer's Association International Conference, suggest that cataract surgery may slow mental decline in people with Alzheimer's disease and related dementias. Preliminary study results indicate that improved vision, resulting from cataract surgery, can have a variety of benefits – both visual and non-visual – for people with dementia.
The research, entitled Visual and cognitive improvement following cataract surgery in subjects with dementia, funded by the National Institute on Aging, was presented on July 13, 2014, at the Alzheimer's Association International Conference in Copenhagen, Denmark.
The study authors are Alan Lerner; Sara Debanne; Julie Belkin; Jon Lass; Tatiana Riedel; Thomas Steinemann; Susie Sami; and Grover Gilmore, who represent the following institutions: Case Western Reserve University; University Hospitals Case Medical Center; and MetroHealth Medical Center in Cleveland, Ohio.
The Alzheimer's Association International Conference (AAIC) is the world's largest gathering of leading researchers from around the world focused on Alzheimer's and other dementias. As a part of the research program of the Alzheimer's Association, AAIC serves as a catalyst for generating new knowledge about the cause, diagnosis, treatment, and prevention of Alzheimer's disease and related disorders.
About the Research
From For People with Dementia, Cataract Surgery Improves Not Only Vision but Cognition and Quality of Life, via the Alzheimer's Association:
"This study supports the Alzheimer's Association view that people with dementia retain, and benefit from, full healthcare treatment," said Maria Carrillo, Ph.D., Alzheimer's Association vice-president of Medical and Scientific Relations. "Too common attitudes such as, 'There's no need for extra care' or 'Why put them through all of that' are not justified and are bad medical practice."

"Appropriate thoughtfulness and restraint are necessary when considering surgery or other procedures for people with Alzheimer's or another dementia. However, we should not assume that medical procedures cannot be pursued or are too risky. As these new results show, improving sensory abilities, for example, can provide benefits in a variety of ways – for people with Alzheimer's and also for their caregivers from whom unnecessary burden can be lifted," Carrillo said.

Study participants were recruited from dementia and ophthalmology clinics at University Hospitals Case Medical Center and MetroHealth Medical Center in Cleveland, Ohio, and were divided into two groups: (1) immediate surgery following recruitment and (2) delayed or refused surgery. Vision and cognitive status, mood, and capability to complete daily activities were evaluated at baseline and six months after recruitment, or six months after surgery.

Preliminary analysis of results from 20 surgical and eight non-surgical participants showed that the surgical group had significantly improved visual acuity and quality of life, reduced decline in memory and executive functioning, and improvements in behavioral measures compared with the non-surgical group. Levels of perceived burden for caregivers of people in the surgical group also showed improvement.
Cataracts and Cataract Surgery
To date, no medication or eye drop has been proven to prevent or reverse cataract formation. If a cataract is causing nearsightedness or a change in an individual's prescription, new prescription eyeglasses can help improve blurred vision. The only treatment for a cataract, however, is surgical removal of the natural lens.
When to Remove? Sooner or Later?
A cataract should not be removed simply because it is present. Many people have cataracts that do not cause blurred vision, interfere with activities of daily living, or otherwise prevent them from leading active and productive lives. In such cases, these individuals should not undergo unnecessary surgery to remove their cataracts.
However, if an individual has a cataract and resultant blurred vision that makes it difficult to read or continue the daily activities that he or she wants and needs to do, it is time to consider cataract surgery.
If there are cataracts in both eyes that require surgery, the surgeries are usually performed several weeks apart. Cataract surgery on both eyes at the same time is not recommended because there is a possibility of complications affecting both eyes – the most worrisome complication is infection.
How Much Should the Cataract Develop Before Having Surgery?
A cataract does not have to become "ripe" before it can be removed. In the past, the lens could not be extracted safely from the eye unless it was at a relatively advanced stage of development. With modern advances in cataract surgery, however, the lens can now be removed from the eye at any stage of development.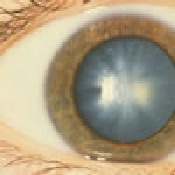 It is true that the longer a cataract develops, the more it hardens. At advanced stages, a firmer or more developed cataract can be difficult to remove. In certain situations, it is safer to remove a cataract sooner rather than later; in most cases, however, an individual should not undergo cataract surgery unless he or she is experiencing blurred vision caused by the cataract.
It is also true that if cataracts are allowed to develop for long periods of time, they can cause inflammation or increased intraocular (within the eye) pressure that can lead to glaucoma.
In these situations, it is extremely important to remove the cataract to prevent loss of vision from the resultant inflammation or glaucoma. This scenario rarely occurs in the United States, however, due to regular access to most types of health care.
More about the Study from AAIC
From the presentation abstract:
Background: Medical co-morbidities [i.e., co-existing medical conditions] often lead to disproportionate adverse effects in dementia. Cataracts are a prominent age related-comorbidity, often co-occurring with Alzheimer's disease (AD) or dementia. The utility of cataract removal in AD in terms of improving visual acuity and Quality of life (QoL) are unknown.

Considerations for surgical removal include the possibility that improved vision may contribute to better cognitive status. Conversely, since AD is a brain disease, improving peripheral sensory input may not materially affect brain function.

Furthermore, the safety risks and potential surgical complications in demented individuals may be sufficiently great to warrant appropriate reticence among treating physicians and ophthalmologists.

To address these questions, we are conducting a clinical trial to determine the effects of cataract removal on visual acuity, spatial contrast sensitivity, vision dependent functions, visual information processing, cognitive measures and QoL in patients with dementia.

Methods: Patients were recruited from dementia and ophthalmology clinics at University Hospitals Case Medical Center and Metro Health Medical Center. Forty-three participants have been enrolled with recruitment ongoing. The current analysis includes 28 protocol completers: 20 in the surgery group, 8 in the non-surgery group.

Conclusions: Our preliminary results show that cataract surgery can improve visual acuity and visual QoL, while reducing decline in memory, and executive function and showing improvements in behavioral measures. Our findings suggest the need to aggressively address dementia co-morbidities such as cataract impairing vision while balancing safety and medical risks.
Preliminary Results and Future Research
According to lead study author Dr. Alan Lerner, "These preliminary results indicate that improved vision can have a variety of benefits for people with dementia and their loved ones, both visual and non-visual. Our findings need to be verified in a larger study, but they suggest the need to aggressively address dementia co-morbidities such as vision-impairing cataracts, while balancing safety and medical risks."
"If the results hold up, it will significantly affect how we treat cataracts in individuals with dementia. Other interventions to offset sensory loss – including vision and hearing – may help improve quality of life for people with dementia and their caregivers," Lerner added.
Additional Information