by Mary E. Worstell, MPH
Editor's note: Guest blogger Mary E. Worstell, MPH, is Senior Advisor, Office on Women's Health, United States Department of Health and Human Services. Ms. Worstell recently spoke on a panel at the American Foundation for the Blind (AFB) Leadership Conference and at a recent teleconference on the 21st Century Agenda on Vision Loss and Aging. She spoke to the health and disability disparities represented by seniors with vision loss and the need for collaborative efforts to improve services for older persons with vision loss. She encouraged our community to "be proactive and at the table to ensure that concerns related to living with aging and vision loss stay at the forefront."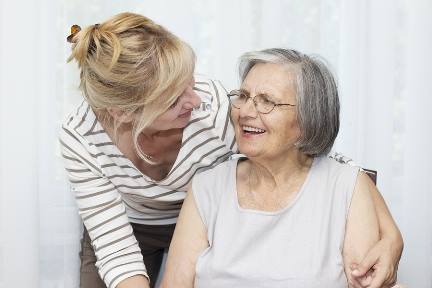 One Size Does Not Fit All
When considering the challenges of the aging population, the solutions are not one-size-fits-all. There are distinct experiences for aging men compared with women, as well as individual differences. My 93-year-old mother is legally blind from macular degeneration and almost deaf, but is otherwise in fine fettle. Her needs are as unique as she is.
Treatment Not a Panacea
Most individuals with low vision are familiar with "the shots" needed to treat macular degeneration. My mother has had them all. Because of this, the specialists now tell us that her condition shouldn't get any worse, but won't get any better.
Continuing to Be Able to Read is Important
My mother, an avid reader, misses reading above all; she tears up when she talks about her special books. I am especially grateful for the Library of Congress program That All May Read, which continues to feed her hunger for history, ballet and Broadway. While her low vision has greatly diminished her daily quality of life over time, this program illuminates her life today with new insights on history, philosophy, and the lives of women of every decade.
Statistics Related to Women and Low Vision
I guess my mother's low vision is due to bad luck, and to a certain extent, bad genes. Her mother had this condition as well. I've learned, however, that it may also be due to her sex. Low vision – due to any cause – affects more women than men after age 60, and especially white, non-Hispanic women. According to the 2012 Vision Problems in the U.S. report of the Prevent Blindness America, roughly 6,000 more women than men aged 60-64, and 40,000 more women than men aged 75-79 have macular degeneration. After age 89, it is more than double the number of women to men with vision loss.
Racial and Ethnic Statistics Related to Low Vision
Racial and ethnic diversities among aging Baby Boomers also contribute to a growing subpopulation of low vision older adults. The Vision Problems in the U.S. report shows that non-Hispanic whites have more low vision conditions – by a large margin – than any other race. Hispanics, which are the fastest growing minority group among adults 65+, have the second largest population with low vision conditions, followed by Blacks.
As a public health professional for over 40 years, I understand the implications of these statistics on the health and well-being of older men and women, on the impact of health disparities due to low income, a rural environment, or lack of access to information a person can understand.
Office on Women's Health
The Office on Women's Health (OWH) at the U.S. Department for Health and Human Services in Washington, DC is focused on reducing the disproportionate burden of diseases in girls and women throughout their lives. Through policy, programs, and education, the OWH addresses health risks for women and girls. Because low vision impacts tens of millions of adults and disproportionately affects older women, we need to raise awareness and find support for individuals. Here are two examples:
Low vision diminishes a woman's ability to manage her own – or her family's – health records and finances, thereby increasing her risk of mis-information and fraud. And all adults need to be aware of low vision needs as they plan their retirement. Did you know Medicare does not cover routine eye care visits or eyeglasses? The costs can be high and most people don't think about this when they retire.
Low vision can greatly affect a woman's ability to care for her partner and family, putting herself as well as her family member at risk. Doctors need to support her to manage this.
Dual Sensory Impairment Leads to More Issues
As a daughter and caregiver, my mother's hearing deficit has more day-to-day impact on our relationship and stress levels. When you add deafness to the low vision, my mother's world has contracted significantly, with the deafness the most defining element of her increasing lack of socialization. There is a paucity of resources (and research) for people like my mom with dual disabilities. She had an uncle who was deaf and blind, too. What is being done to help my brother, sister, and their children in the future? We can't change the genes, but can we change our future?
Additional Information