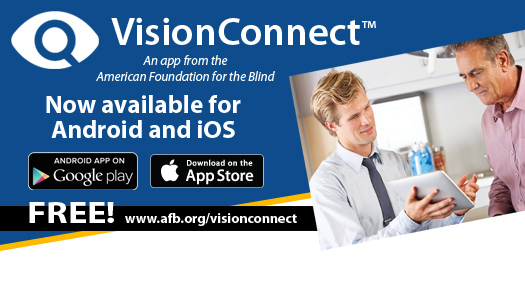 The American Foundation for the Blind is pleased to announce that its popular VisionConnect™ app is now available for Android, as well as iOS devices. It can be downloaded from both the GooglePlay Store or the Apple App Store and is free.
About the New VisionConnect™ App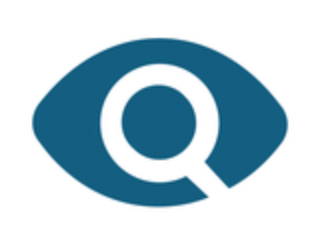 Caption: VisionConnect Logo
VisionConnect™ provides a searchable directory of services available in the US and Canada for children and adults who are blind or visually impaired. You can use the app to find local and national services and help for living with vision loss such as low vision services,computer and technology training, daily living skills training, dog guide training, employment services, braille and reading instruction, and more.
Key Features of the VisionConnect™ App
Search
Select an age group: all ages, children, or adults, including seniors.
Select a service category: advocacy, assistive products, braille and reading instruction, etc.
Select a state, zip code, or distance from service, or
Select an organization by name.
Customization
Save your search results as lists; for example, "Low Vision Services in Florida."
E-mail your lists to family members, patients or consumers, or health care providers.
You can also use the app to find resources and tips for living independently with visual impairment, including information on products and technology, tips for home modification, personal stories about living with eye conditions such as diabetes, macular degeneration or glaucoma, and advice on maintaining employment. Find out more about using the App.
Who Should Use the App?
The simple answer is anyone–individuals with vision loss, family members, service providers, and health care professionals. AFB is particularly targeting eye medical professionals to encourage them to refer individuals for services. They can use the app to create customized lists of rehabilitation service providers that they can email to their clients, and provide their patients with home survey checklists, ideas for managing their medications, and more.
Medical providers, and especially eye care specialists, provide a natural gateway to information about the technologies, services, and resources to which their patients need access. However, eye care specialists and other health care professionals may not be aware of these options. Consequently, they do not provide crucial information to their patients experiencing vision problems. As a result, people with low vision are unlikely to hear about low vision rehabilitation services from their ophthalmologists or other medical providers, according to a 2010 study published by the Centers for Medicare and Medicaid Services Studies.
New Video Entreats Eye Care Professionals to Refer Patients for Vision Rehabilitation
The American Academy of Ophthalmologists has recognized and responded to the critical need for eye doctors to refer patients for vision rehabilitation and has just released Low Vision, a video about the importance of referring their patients for these services. (note: transcript and description of video)
In the video, David Parke, CEO of the Academy, announces that, "vision rehabilitation is now the standard of care for patients who are losing their vision."
Help Spread the Word
If you are interested in helping AFB spread the word about the VisionConnect app, free materials are available for medical and vision loss professionals to distribute. Order at afb.org/store/visionconnect. And ask your eye care professional to watch the Low Vision video.
Additional Information
Learn more about Low Vision on VisionAware.
Read our blog series on "Understanding Low Vision Services".