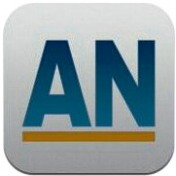 On January 31, 2013, American Foundation for the Blind (AFB) released the AccessNote™ app, a specialized notetaker for the iPhone®, iPad®, and iPod touch®.
AccessNote™ was developed by AFB Tech, the technology division of AFB, in partnership with FloCo Apps, LLC. The price of AccessNote is $19.99, available as a download from the App Store.
Some Background about Notetakers and AccessNote
A traditional notetaker is a portable electronic device that enables users who are blind or visually impaired to take notes, create documents, and access applications. These notetaking devices usually provide speech and/or braille output.
In addition to being a low-cost alternative to traditional notetaking devices, AccessNote allows users to combine efficient notetaking with additional features and functions of the iPhone, iPad, and iPod touch. This allows people who are blind or visually impaired to use the same popular devices as sighted peers in classroom or business settings.
AccessNote is the first notetaking app developed and designed specifically for users with vision loss. AFB evaluated many available notetaking apps, but found none to be sufficiently efficient for, or user-friendly to, people who are blind or visually impaired. You can read more about AccessNote in AFB's February 1, 2013 press release.
What Is AccessNote?
AccessNote is a powerful and efficient notetaker that takes advantage of the built-in accessibility of Apple devices. It is designed to be used with VoiceOver, the screen reader that is pre-installed with the iPhone, iPad, or iPod touch. AccessNote's interface uses standard design techniques, which will be familiar to users of Apple products.
The February 2013 issue of AccessWorld®: Technology and People Who Are Blind or Visually Impaired, AFB's monthly online magazine, provides an overview of a number of innovative and helpful AccessNote features:
Seamless Navigation: Customized keyboard commands make notetaking more intuitive and productive than ever before, including quick access to important features, such as "Search All Notes" and "Search within a Note," as well as several navigation options, including reading by character, word, line, paragraph, and page.
Automatic Saving: With an automatic save after every few keystrokes, notes will not be lost.
Cursor tracking: When navigating among multiple sets of notes, users can always pick up right where they left off.
Simplicity: With a clutter-free interface, users can create, read, find, and sync their notes, making it easier to spend more time with actual content and less time with tools.
Dropbox Integration: Dropbox keeps AccessNote in sync with the user's desktop (and other devices), so your notes are always available and backed up.
Compatibility with Bluetooth Keyboards: AccessNote is optimized for efficiency with the Apple Wireless Keyboard and for today's wireless braille displays.
Options for Larger Text: Users can choose among 14-, 18-, or 22-point fonts for notes. AccessNote is also compatible with the Zoom screen magnifier feature on Apple devices.
Typing Speed and Accuracy: AccessNote is designed to be used with wireless QWERTY and refreshable braille keyboards. Several powerful customized keyboard commands for both QWERTY and braille keyboards are included that increase speed and efficiency.
Additional Information
A Quick Start Guide for using AccessNote is available on the AFB website, as well as on the app's Help page. AccessNote's Help page also contains a brief "Getting Started" tutorial. The price of AccessNote is $19.99, available as a download from the App Store.