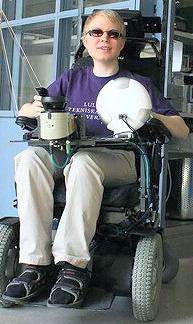 A prototype electric wheelchair that can sense the environment and transmit information to a person who is blind or visually impaired is being developed and tested at Luleå University of Technology in Luleå, Sweden.
The "sighted" wheelchair development team is headed by Kalevi Hyyppä, a professor at Luleå University, and includes prospective Ph.D. student Daniel Innala Ahlmark (pictured left, who is visually impaired and tested the prototype), assistant professor Håkan Fredriksson, and Ph.D. student Fredrik Broström.
Here's more from Science Daily:
The wheelchair has a joystick for steering and a haptic robot that acts as a virtual white cane. With the help of a laser scanner, a simplified 3-D map is created of the wheelchair surroundings. The [resultant] 3-D map is then transferred to the haptic robot so that a blind or visually impaired wheelchair driver can "feel or see" obstacles, such as opened doors or oncoming people, and navigate past them.
Despite the success of the initial trial, however, TG Daily reports that much additional research and testing will be required before the prototype wheelchair is fully operational:
At present, the laser beam that sweeps in front of the wheelchair only works at [wheelchair] height and cannot sense objects that are above and/or below that level. The research team also plans to develop a 3-D camera that can perform a more complete 3-D measurement of the actual environment. When those updates are completed, the team estimates that the "sighted" wheelchair will be available for manufacture in approximately five years.
Professor Hyyppä notes that "many blind and visually impaired people have already been in touch with me and asked if they can come for a test drive." VisionAware congratulates Professor Hyyppä and his research team for this exciting – and functional – mobility development for blind and visually impaired wheelchair users and will provide updates on this project as they become available.