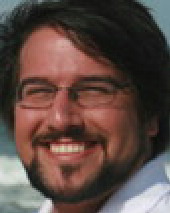 Guest blogger Joe Strechay is the CareerConnect Program Manager at American Foundation for the Blind (AFB). Here's Joe's description of his AFB working life: "I spend most of my time writing about employment, career education, job seeking, and job accommodations. While I am truly passionate about what I do, occasionally it is nice to write about something else that is current and popular. I get that opportunity through the AFB Blog and FamilyConnect."
Meet Joe and Learn More About His Work and Passions
Greetings! I would like to say hello to all of our VisionAware friends and followers! I truly appreciate the invite from VisionAware blogger Maureen Duffy to write a post and introduce myself.
I attempt to bring my experiences in life and work into my posts, and I have worked in a variety of settings and specialties within the field of visual disabilities. I did my graduate work in Orientation and Mobility, teaching children who are blind or visually impaired, and specialized in school-to-work transition. I did my student teaching at a high school in Brooklyn, NY as a teacher of the visually impaired.
Let's see … In Florida, I worked as an itinerant Vision Rehabilitation Therapist, covering twelve counties. Also in Florida, I worked at the state level overseeing transition and helped run a college preparation program for the State of Florida and Florida State University.
I was an orientation and mobility instructor for adults at a vocational rehabilitation center in New Jersey and have created curricula for states and at CareerConnect. Prior to graduate school, I worked in physical education and adaptive physical education, and have a strong love for sports, including Paralympic sports.
Joe as the "Swiss Army Knife" of Blindness
Consequently, I consider myself a many-pronged "Swiss Army knife" of content knowledge and experience, predominantly in transition and employment.
I guess I haven't mentioned that I am blind – well, legally blind or extremely low vision. I truly prefer to say "blind." I have the tiniest bit of usable vision, due to retinitis pigmentosa and a healthy dose of cataracts. My life pretty much revolves around trying to help people adjust, explore careers, and move toward quality employment. I feel that my excitement about life, popular culture, vision loss, blindness, and cupcakes helps my writing. (OK, I really do like cupcakes, but that isn't what this post addresses. I just threw in cupcakes for kicks.)
Joe's Favorite Blog Posts: The "Top Eight"
Beginning with number eight, I'll work my way to number one – my favorite post:
#8 Inspiration from a Pop Star: Lady Gaga's 'Born This Way': This blog post came to me while I was listening to the album with my wife. I had to look up the lyrics to be sure I understood them correctly. I loved the words and message conveyed through her song "Born This Way." It made me listen to her work a lot more carefully and I'm now a fan of her music. I wouldn't have said that previously, but I definitely respect her messages now – for the most part.
#7 Meet Connor Boss, Miss Florida USA Contestant, Legally Blind: My wife and I always watch ABC's Good Morning America prior to heading to work; last month, ABC News profiled Connor Boss. She was enthusiastic, confident, and extremely upbeat about her visual impairment and life. "This could be a good piece for CareerConnect," I said to myself, and wondered if it would be possible to get in touch with Connor. I was able to correspond with her and explain that I would love to interview her for AFB's CareerConnect. She was totally willing and we made it happen. (Also, Connor is starting in the fall at Florida State University, where I did my graduate work. Go Seminoles!)
#6 I Never Travel without "Slim" – Happy White Cane Day: This piece was written for National White Cane Day. I have nicknamed my white cane "Slim." Slim gets a little beaten up over time, but never leaves my side. I am grateful to have been trained in orientation and mobility, including the skills to use "Slim" as a tool that provides me with independence. I'm not saying I'm the world's greatest traveler, but I handle myself pretty well. I travel the country giving presentations and workshops about APH CareerConnect, employment, and transition-related topics. I appreciate the work of all the professionals who work with us to get the skills we need to be as independent as possible.
There's More!
Stay tuned for Joe's next installment. He'll be counting down to his #1 favorite blog post, in which he talks about online dating and meeting the love of his life. Thank you for sharing your talent and enthusiasm with our readers, Joe, and we look forward to Part 2!