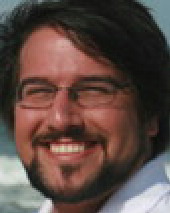 Guest blogger Joe Strechay is the CareerConnect Program Manager at American Foundation for the Blind (AFB). Here's Joe's description of his AFB working life: "I spend most of my time writing about employment, career education, job seeking, and job accommodations. While I am truly passionate about what I do, occasionally it is nice to write about something else that is current and popular. I get that opportunity through the AFB Blog and FamilyConnect."
Joe's Work and Passions
In Part 1 of Joe's story, he discussed his background in the visual disabilities field (Editor's note: It's impressive), his work at AFB's CareerConnect, and his work as a talented (and lively) blogger. As a special treat for VisionAware readers, Joe agreed to share his "top eight" favorite blog posts, with an accompanying peek into his "blogger's head" and inspirations.
Joe's Favorite Blog Posts: The "Top Eight"
In this installment of Joe's story, he shares blog posts number five to number one – his favorite. (You can read the full countdown, beginning with numbers eight through six, in Part 1 of Joe's story.)
#5 White Cane Safety Day – Raise Your Cane in the Air! (Oh wait, put it down!): This post celebrated national White Cane Safety Day, but I also took the opportunity to recognize that travel with a white cane requires appropriate professional training and resources. I was a professional in this area for a bit, and I am grateful for the programs that train the orientation and mobility professionals who do this work. I also talk about AFB Press, the leading publisher of textbooks, journals, and videos that provide the knowledge and resources to train future instructors. As a blindness professional and a consumer of blindness services, this area of our field definitely "hits home" for me.
#4 (a tie) I Want to Be My Own Boss: Is Self-Employment Right for Me? and Working from Home: Everybody Likes the Idea of It: The first post was inspired by the many questions I receive about self-employment issues, while the second post investigated the pros and cons of working from home. Yes, everyone wants to do it, but people don't always consider the positives and negatives of at-home work situations, including a ton of scams related to those "too good to be true" jobs. Beware! And since we're talking about employment, here's a piece I did for NY Creative Interns called Ready…Set…Can You Get Me Coffee? Interning with a Visual Impairment, in which I addressed some of the lessons I learned while interning at multiple organizations during my two career paths.
#3 Be Kind, Rewind: How Your First Job Affects Your Entire Career: In this post, I reflected on my first job, including how much it influenced my subsequent view of work and work-related expectations. My parents instilled a strong work ethic in me and my siblings from an early age: Once we could work, we were expected to get a job. It's likely that most of us are not working in our first jobs any longer, but I'll bet that most of you still can recall a number of important lessons you learned along the way.
#2 (another tie) MasterChef Cooks Up Positive Portrayal of Blind Cook and Christine Ha Cooking Her Way to Being Next MasterChef: I did two posts within a week about MasterChef contestant Christine Ha, who is visually impaired and a great cook. The first post was about my discovery that there was a visually impaired woman on this Fox Network reality show! I'm a fan of Gordon Ramsay and his shows; add an exceptional cook who is visually impaired, and I am totally on board that train! In my second post, a gracious Christine Ha answered my questions about her life experiences and career plans.
drum roll …
#1 Forget Blind Dating, Try Online Dating! I Met My Valentine Online!: This piece was posted on Valentine's Day, and is my favorite post because it explains how I met the love of my life – my beautiful wife Jennifer – through an online dating website. You never know how you will meet the right person, but it just happened that I met her online. The post provides some advice and tips about online dating, but it also tells our story. This post will always be #1 in my mind because it shares something that changed my life forever for the better.
Read More
Now that you know my favorites, please check out my other posts on the AFB Blog and let me know your thoughts. (Here's a parting thought from me: I feel as if it has become popular recently to be blind on television. When I get my shot on "The Amazing Race" or – even better – "The Apprentice," I am ready to rock some reality television. So Donald Trump, if you're listening, please hook a brother up!)
I truly appreciate this opportunity to introduce myself to you all and I look forward to hearing from you. Many thanks!