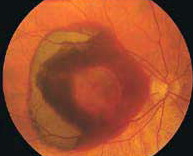 One of the questions I'm asked most frequently is this: Is there any way to predict if I'll get macular degeneration?
Although it's not yet possible to definitively predict whether an individual will – or will not – experience age-related macular degeneration (AMD), Michael L. Klein, M.D. and colleagues have developed a simple risk assessment tool that may help answer the always-uncertain "prediction" question.
In the December 2011 edition of Archives of Ophthalmology, Dr. Klein and colleagues described their research and resultant online assessment tool in A Risk Assessment Model for Development of Advanced Age-Related Macular Degeneration. According to the authors, the assessment tool and model they have developed can (a) identify individuals with early AMD who are at greatest risk to progress to advanced AMD, and (b) predict when that progression might occur.
The Archives of Ophthalmology is a monthly professional medical journal, sponsored by the American Medical Association, that publishes peer-reviewed, original articles on all aspects of ophthalmology and visual science.
The authors are Michael L. Klein, MD and Peter J. Francis, MD, PhD, Casey Eye Institute and Devers Eye Institute; Frederick L. Ferris III, MD, the National Eye Institute; Sara C. Hamon, PhD, Rockefeller University; and Traci E. Clemons, PhD, The EMMES Corporation.
About the Study
Lead author Dr. Klein and colleagues sought to design a risk assessment model for the development of advanced AMD that included physical, demographic, environmental, and genetic risk factors. They analyzed data from 2,846 participants in the Age-Related Eye Disease Study (AREDS), including DNA samples and ocular and medical histories and examinations. The patients in the study were followed for an average of 9.3 years.
The initial AREDS clinical trial involved 4,757 individuals with age-related macular degeneration or age-related cataracts. The initial participants were followed up, on average, for 6.5 years during the clinical trial and for five years after the trial.
Findings and Results
You can view the prototype Advanced AMD Risk Calculator online at the Casey Eye Institute website.
The important risk factors/variables included in the final assessment tool included very large drusen (small white or yellowish deposits on the retina associated with AMD), a history of smoking, family history, advanced AMD in one eye, and advanced age.
MedPage Today provides a helpful summary of the research findings:
The findings of this analysis, according to the researchers, suggest that genetic testing alone or in addition to demographic and environmental factors – as has been proposed by some – is inadequate in screening for macular degeneration among older people.

"We believe that the first priority for individuals at potentially increased risk for developing [AMD] based on age, family history, and other factors should be to obtain an eye examination," asserted Klein and colleagues.

During this examination, which should include evaluation of the macula, information can also be obtained about the person's likelihood of other ocular disorders, along with relevant [physical], environmental, and demographic data.

Limitations of the model were its inclusion of only white participants and those ages 50 to 85, but the model could be adapted for use in other groups, they said.

They noted that greater advancements are likely to come in identifying environmental and genetic influences on macular degeneration. As information becomes available, the authors plan to update the online [risk assessment tool] for use by clinicians.
Sources: Archives of Ophthalmology; American Health Assistance Foundation; Medscape Medical News