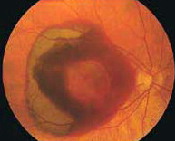 On December 15, 2012, The New York Times Neediest Cases Fund, which provides direct assistance to children, families, and older adults in New York, featured a profile of 78-year-old graphic artist Margie Jones, entitled A Disease Threatens a Woman's Eyesight and Art. Ms. Jones, who has had Ehlers-Danlos syndrome, a hereditary collagen disorder, since 1976, learned that she had macular degeneration in October 2012.
Margie Jones's Story
The following excerpt from Ms. Jones's profile describes her reaction when she received her macular degeneration diagnosis:
For better and worse, flexibility has defined Margie Jones's life. A rare genetic disorder makes her hyperflexible, to the point that she cannot always support her own body parts, and her joints easily disconnect from their sockets. But Ms. Jones's equally agile mind has found ways to adapt to each new challenge, physical and financial, that has emerged over her 78 years.

Ms. Jones, so accustomed to figuring out a solution, is suddenly facing a black wall. She has no symptoms yet, but a doctor gave her a diagnosis of macular degeneration in October. The deterioration of tissues in her eyes will almost inevitably lead to virtual blindness.

"I am devastated," she said, her voice trembling. "I think I really thought that because I had the Ehlers-Danlos, I wasn't going to get anything else."

When she received a diagnosis of Ehlers-Danlos in 1976, no one knew what to expect, so Ms. Jones learned to adjust gradually as new obstacles arose. [Macular degeneration], which is better understood, is actually harder for her to cope with. She knows the worst case, and doctors have few ideas about how to forestall it.

After a lifetime of making art for clients, Ms. Jones dreamed of creating work only for herself. She likes drawing and etching human figures and wants to start painting. So the threat to her vision is "like a slap in the face."

For her cousin, it was more than he could take. After getting macular degeneration that progressed quickly, she said, he fatally shot himself last fall.

"I don't think I'm going to go out and shoot myself," she said. "I'm going to make it delayed by doing all the right things — of course, I don't know if that's true or not."
The Facts About Macular Degeneration
Age-related macular degeneration (AMD) is a progressive eye condition, affecting as many as 15 million Americans and millions more around the world. The disease attacks the macula, the part of the retina that provides our sharpest and clearest central vision. AMD can reduce contrast sensitivity and color perception and diminish the clear, "straight ahead" central vision that is necessary for reading, driving, identifying faces, watching television, doing fine detailed work, safely navigating stairs, and performing other daily tasks we take for granted.
There are two types of age-related macular degeneration: dry (atrophic) and wet (neovascular). It's possible to experience the wet type in one eye and the dry type in the other; in addition, the dry type can progress to wet in approximately 10-15% of cases.
The dry type affects approximately 85-90% of individuals with AMD. Its cause is unknown, it tends to progress more slowly than the wet type, and there is not yet an approved treatment or cure. In dry AMD, small white or yellowish deposits, called drusen, form on the retina, beneath the macula, causing it to deteriorate or degenerate over time.
The wet type affects approximately 10-15% of individuals. In wet AMD, the choroid (a part of the eye containing blood vessels that nourish the retina) begins to sprout abnormal blood vessels that develop into a cluster under the macula. These new blood vessels tend to break, bleed, and leak fluid, causing the macula to lift up and pull away from its base. This results in a rapid and severe loss of central vision.
Vision Rehabilitation Services for AMD
Although there is not yet a cure for AMD, it is most certainly not a death sentence: there is hope. The following letter, written to The New York Times by VisionAware Program Manager Priscilla Rogers in response to Margie Jones's Neediest Cases profile, emphasizes the importance of vision rehabilitation services and peer support when grappling with a diagnosis of macular degeneration:
To the Editor:

My heart goes out to Margie Jones, the woman living with Ehlers-Danlos syndrome and macular degeneration, recently featured in your "Neediest Cases" column (A Disease Threatens a Woman's Eyesight and Art; December 15, 2012). Coping with vision loss can be challenging, especially when you have another disability, but once equipped with the right information and the help of specialists, Ms. Jones can learn to do much of what she does now. Indeed, many successful artists are blind or visually impaired.

For the 5.4 million Americans over the age of 65 experiencing significant vision loss – a number that is expected to double by 2030 – help is available. I hope that Ms. Jones and others like her will visit our website, VisionAware.org, for emotional support, guidance for everyday living and working, and links to local resources. I am confident that Ms. Jones can conquer this diagnosis and continue to live the life she desires.

Sincerely,
Priscilla Rogers
Program Manager, VisionAware

Research and Treatments for AMD
To learn more about current treatments for macular degeneration, you can read The Latest Developments in Stem Cell Therapy for Macular Disease, FDA Approves Eylea™ for the Treatment of Wet Macular Degeneration, and Avastin and Lucentis for Macular Degeneration: Head Once Again on the VisionAware blog.