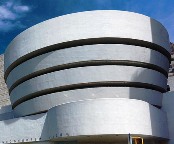 The Verbal Imaging Tour App
The Solomon R. Guggenheim Museum in New York has announced the launch of a new app, which includes its first-ever Verbal Imaging audio tour for visitors who are blind or have low vision. The app is free, T-coil compatible, and is available on site with museum admission or from iTunes.
The new Verbal Imaging tour focuses on the Guggenheim's full-rotunda exhibition, Gutai: Splendid Playground, with 11 stops that guide visitors from the bottom to the top of the rotunda. It includes dialogue with a visitor who is blind, an accompanying "touch object" pack, and is enabled with VoiceOver.
A second exhibition, No Country: Contemporary Art for South and Southeast Asia, also includes a five-stop Verbal Imaging tour. The Gutai tour was written and narrated by Georgia Krantz, the Guggenheim's Senior Education Manager for Adult and Access Programs, who consulted throughout the creation of both tours.
Accessibility at the Guggenheim
From the Guggenheim website:
Mind's Eye programs, offered on the first Monday and the second Wednesday of every month, provide an opportunity for visitors with low vision and blindness to explore the museum's exhibitions, collections, and architecture through communication and sensory tools particular to their experience. Conducted through verbal imaging and touch, Mind's Eye tours and workshops are led by arts and education professionals who facilitate shared observation, discussion, and creative practice.
The Exhibitions
Gutai: Splendid Playground (February 15-May 8, 2013) is the first United States retrospective of Gutai, Japan's most important postwar avant-garde art movement. The exhibition includes painting, conceptual art, experimental performance and film, indoor and outdoor installation art, sound art, mail art, interactive or "playful" art, light art and kinetic art. The Guggenheim show comprises 120 objects by 25 artists on loan from major museum and private collections in Japan, the United States, and Europe.
No Country: Contemporary Art for South and Southeast Asia (February 22-May 22, 2013) focuses on the artistic practices and cultural traditions of Vietnam, Cambodia, Thailand, Indonesia, Singapore, Malaysia, the Philippines, Myanmar, Bangladesh, Pakistan, and India. The exhibition includes painting, sculpture, photography, video, and performance documentation, and examines a range of topics including cross-cultural encounters and negotiations; conceptions of nation, identity, and religion; and historical interpretation and narratives.
Additional Information
All Mind's Eye programs are free, with RSVP required one week before the program date. To RSVP or to receive program notifications, send an email to access@guggenheim.org. For information about accessibility for museum visitors who are blind, visually impaired, deaf or hard of hearing, or have limited mobility, you can visit the Guggenheim's accessibility page.
VisionAware has information, techniques, and resources to help you enjoy museums and art tours, theater and film, and painting with blindness or low vision.
Guggenheim Museum photo is a Wikimedia Commons file, used in accordance with the Creative Commons Attribution 3.0 Unported license.