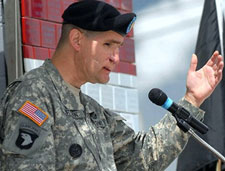 Meet Master Sgt. and Army Veteran Jeffrey Mittman
United States Army veteran Master Sgt. Jeffrey Mittman was wounded by a roadside bomb on July 7, 2005 in Baghdad, Iraq. In that attack, his left eye was destroyed, his right arm was badly damaged, and he lost his nose, his lips, and most of his teeth. "My left eye was destroyed, my right eye had permanent scarring, and I had just a little peripheral vision remaining. My first concern was how I was going to recover and take care of my family," he said, since he could no longer lead soldiers in combat. You can read Sgt. Mittman's story about his long and arduous journey through healing and rehabilitation at "Information for Veterans Coping with Vision Loss," on the VisionAware website.
Jeffrey Mittman Today: An Update
Recently, VisionAware Social Media Specialist Maureen Duffy spoke with Jeff about his post-military life and career:
Maureen: Thanks very much for taking the time to speak with us, Jeff. My first question is about rehabilitation, and your blind rehabilitation program in particular. Here's what you said back in 2010:
"I'm the kind of guy who, if I have a problem, I confront it. If I need a piece of equipment to accomplish something, I go get it. Rehabilitation was part of what I had to do. It was at the VA that I learned how to use a white cane and a few adaptive techniques in daily living. I drew the line at making peanut butter sandwiches, however – I thought there were more important priorities."
Maureen: I understand that. It's your rehabilitation program and you have to learn what you need to make your life move forward: "This is my rehab. This is what I want. Please give it to me."
Jeff: It wasn't that I didn't appreciate their efforts, but I wasn't simply trying to survive – I was trying to advance. Quite frankly, working in the kitchen, well, I can pay someone to do that, so I wasn't worried about it. I have a real stubborn streak, I'm sure.
For instance, I needed to learn to type one-handed if I was going to function well in the world and at work. It was what I needed and I wanted to be sure I got it. That's what was going to make me marketable. For me, making sandwiches was much less important.
Advice from Jeff for Blind Veterans
Maureen: What advice can you give to your blind colleagues who are returning home from combat?
Jeff: First and foremost, you have to have mobility. You have to – have to – be able to travel independently. I just gave a talk last week and I mentioned this specifically. When I first got hurt, the first six months, I was afraid to leave my wife's side, because I was afraid I was going to hurt myself, or hurt somebody else, or step in front of a car and make it swerve. So gaining that confidence in mobility is your first step.
I think your second step is embracing the technology that's around you so you can market yourself. I use ZoomText from Ai Squared, a closed-circuit television (CCTV), and several digital magnifiers. Because of my hand injury, I use Dragon NaturallySpeaking speech recognition software to dictate to the computer. I use an Amazon Kindle to read the Wall Street Journal and other daily newspapers, but ZoomText is invaluable because it also reads documents to me. I also have scanners that speak the text to me. You name it, Hines VA covered everything.
I used my technology when I first started searching for a job or setting up my speaking events, and when I communicated with people that way – and even now – nobody knew I had a disability. Nobody knew I was blind until I mentioned it. That's the beauty of technology.
It was one of the advantages I had in my former job at National Industries for the Blind. I was a national account manager, selling our blindness programs and products. I used to love it because I would communicate with potential customers and then I'd fly out to Colorado, for example, walk into their offices for a meeting – and I was blind. I thought it was such a fabulous selling point for our program.
They would have no idea until I showed up that I was blind. It was a great reinforcement of what I had already told them: Hey, we can make this product, we can do this service, and, by the way, when I show up – I'm blind. I flew all the way across the country for this meeting. If I can do that, what makes you think we can't package this product for you?
The third step is actually applying and using the assistive technology. A lot of guys get the technology and then leave it boxed up and never use it. I have the computers, I have the software, and if I don't use it, that's not going to do me any good. I have to be able to apply the technology for school and work. I'm doing my second Master's degree and there's no way I'd be able to do it if I didn't have adaptive technology.
Next: Jeff Talks About Employment
In Part 2 of our interview, Jeff talks about his current life, which includes a new job and yet another Master's degree program! He also discusses the current (and unacceptable) 70% unemployment rate among people with disabilities, including blindness and visual impairment.
Additional Veterans' Services at VisionAware
A new information hub for veterans with vision loss, titled "Information for Veterans Coping with Vision Loss," is now available on the VisionAware website. Timed to coincide with this year's observation of Veterans' Day, this new resource serves veterans with vision loss, their families, caregivers, healthcare providers, and social service professionals.
Our thoughts and thanks remain with those who, as we share these words, continue to place their lives at risk in active combat.