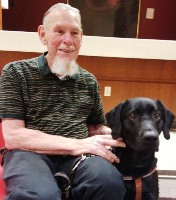 Gil Johnson is a talented woodworker and the author of Gil's Guide to Home Repairs and Parenting or Grandparenting with Vision Loss on the VisionAware website. You can learn more about Gil's life and professional accomplishments in VisionAware's in-depth interview with Gil and at Meet Gil Johnson: Blind Woodworker and One of California's "50 Notable People" on the VisionAware blog.
This month, Gil is at The Seeing Eye, Inc. in Morristown, New Jersey, training with his new guide dog (pictured left). In Part 1 of his diary, Gil documents the experience of meeting, and learning to work with, his new friend and partner: a black Labrador named Harley. In this week's Part 2, Gil and Harley continue their dialogue, including Harley's first training "stumble" – and recovery.
Monday, May 6
Every day, Harley and I are a bit more well-coordinated and graceful. It is a learning experience for both of us. Harley is affectionate and energetic and wants to do what I want him to do. He does, however, get distracted pretty easily by other dogs. There are 19 other dog guide teams in training here!
When he sees his former trainer, Drew, or our current trainer Erin, he forgets momentarily that he is supposed to guide me. It is my job to remind him in a way that brings his focus back to the task at hand while not making him think he has failed me. Nero [Gil's previous guide dog] and I went through the same process with excellent results. I expect Harley and I will achieve the same level of skill and grace that Nero and I had.
Harley's Turn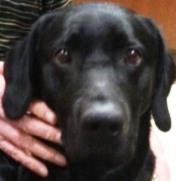 To Dad (Gil) from Harley: Well, I do have a few things I want to say that you probably wouldn't mention. Yesterday evening we went out on that big area surrounded by the hotel we are staying in. I think I heard you call it the courtyard. I tried really hard to get us back to the door where we came out.
I got confused and you couldn't tell me the direction to go either, so we went this way and that, looking for the door. We found a couple of interesting-looking things like chairs, tables, and a wall, but it wasn't what you wanted. I thought I saw the place where we should go and hurried to get there. We came to a wooden platform with a step up, but I forgot to stop so you could know there was an "up" step. You didn't fall, but you did stumble.
You said the word that means I did something wrong: "FWUI"! You also jerked my leash. I knew you were unhappy with me and I felt really bad. I put my head between your knees and apologized the best way I knew how.
You petted me a lot and talked nicely but it took me a little while to recover and try again to find the door. Finally, we did find a door but it wasn't the one we came out of. You were fine with that, anyway. We were in the lobby of the hotel and eventually found our way back to our room. I hope that doesn't happen again.
Today we went on a nice long walk and later went up some moving stairs that I think I heard you call "escalators." That was fun and you praised me a lot! I am wondering, however, why you sometimes call me "Nero" instead of "Harley." Has there been another dog in your life? tsk, tsk.
That's all I want to say for now, except to remind you to think about giving me more food than you do. Remember how hard I work for you!
Gil Responds
To Harley from Dad: Yes, it's true. Sometimes your name doesn't come immediately to mind. But you shouldn't worry because we are together now and I will be faithful to you. I admit that I did have Nero, another guide dog, before and you would have liked him.
Nero helped me learn what I know about working with a guide dog, but you are teaching me some other things. So please don't be jealous. I will try really hard not to confuse you by calling you by another name.
Gil and Harley's diary is continued in Part 3.