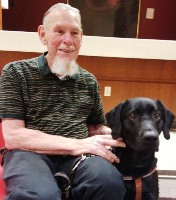 Gil Johnson is a talented woodworker and the author of Gil's Guide to Home Repairs and Parenting or Grandparenting with Vision Loss on the VisionAware website. You can learn more about Gil's life and professional accomplishments in VisionAware's in-depth interview with Gil and at Meet Gil Johnson: Blind Woodworker and One of California's "50 Notable People" on the VisionAware blog.
This month, Gil is at The Seeing Eye, Inc. in Morristown, New Jersey, training with his new guide dog (pictured left). Following is Gil's diary, in which he documents the experience of meeting, and learning to work with, his new friend and partner: a black Labrador named Harley.
Wednesday, May 1
I'm now in New Jersey at The Seeing Eye to get my second guide dog. Before coming here, my best friend and soon-to-be-former guide dog Nero and I flew to Denver, where I gave Nero over to Kevin, who will provide him with a good and loving home. It was difficult for me to leave without Nero, as we have been together constantly for the past five years.
I flew to Newark on Monday, April 29, and am residing at a very nice hotel that The Seeing Eye is leasing while their main building in Morristown is being renovated. The 20 students in this class come from as far east as Newfoundland, from Washington and California on the west coast, and from Texas and the Carolinas to the south and east.
All of us in this class spent Tuesday getting to know our instructors, and more importantly, for our instructors getting to know each of us. On the basis of discussions with the instructor, and from walking around the streets of Morristown, the instructor selects the dog that they feel is the best match for our individual personality and walking preferences and style. This "match" is probably one of the most important steps in the process of getting a new guide dog.
I just was introduced to my new best friend, Harley, an all-black Lab. Nero is black too, so folks at home who are used to seeing me walk around with Nero may not even notice that this is a different dog. At first meeting, Harley was very affectionate and happy to meet me. We have gone out on two walks so far; Harley guides well and responds to my commands. The bonding that is critical to making us a good team will take time, however.
Saturday, May 4
It was four days ago that I first met my newest best friend, Harley. I just learned that he was born on October 31, 2011. He is 24 inches tall at the shoulders and weighs 60 pounds. We are getting around the hotel more and more and have made several trips into Morristown to the training site that The Seeing Eye has leased. My trainer, Erin, who also works with three other students, has accompanied me on walks around the downtown area.
Tomorrow I get to "solo," which means walking a planned route with Erin following, but giving no directions or information about what is ahead. I am confident that it will go well. Then we will take on more complicated routes and other experiences, such as escalators, revolving doors, crowded department stores, and taking a bus and train.
We are also learning what is called "clicker" training. This is a method for training the dog to find a specific target, such as a door knob, signal light button, elevator button, or chair, for example. It is based on the Pavlovian experiments of stimulus/response. The dog is asked to touch a target with his nose. This is followed by making a clicking sound with a small device designed for that purpose and immediately rewarding the dog with a small food treat. We are also doing "obedience" training to reinforce some basic commands, such as "sit," "rest," and "come."
We cap off the training with a day-long trip to New York City, riding the subway and traversing busy streets and sidewalks. There's a lot to do before we are sent home on May 16th where the learning and bonding process will continue for six to nine months or more.
Harley's Turn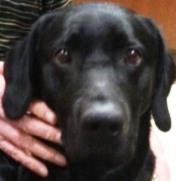 To Dad (Gil) from Harley: I'm getting to know you better all the time and I know I will like working with you. I particularly like it when I roll over on my back with my legs sticking up in the air and you scratch my tummy and ribs. You sometimes stop doing that sooner than I want, particularly if we are in one of those meetings you like to go to all the time.
But I really don't understand why you only give me a cup and a half of food twice a day. Growing Labs like me need more food than that! That is why I pick up any crumbs on the floor in the dining room or in the bar you took me to last night. (Oh! Was I wrong to mention that?)
Also, I don't know why you won't let me spend time with Drew, my good friend who trained me before you got here. Every time I see him and want to go say "hi," you make me go somewhere else. That is particularly annoying when I go outside to relieve myself. You call that "parking" but it is never in a park, just some old cement slab or something.
I also like Erin, who is teaching you what I have learned, but you won't let me spend time with her either. I get the idea that you want to be the leader of the pack rather than Drew or Erin – or me, for that matter. I know you are always really happy with me when I get us to the dining room, a training room, or back to our room from the hotel lobby like I did this afternoon. That makes me feel really good.
Gil and Harley's diary is continued in Part 2.